Clyde Senior

High School




Class Of 1967
ANNOUNCEMENTS
Hi! I have added a new Photo Gallery named 55th Reunion Pics (one for Friday and one for Saturday) and posted my pictures. Hilda has posted her pictures. Vicky Tarris took a picture of everyone in attendance and we hope to see those soon on the Gallery. I know many others have taken pictures and hope that they wil post their pictures to the gallery as well. (If you need any help, let me know.)
Thanks to everyone who helped organize the party, brought food and drink, and who showed up to share the fun. Special thanks to Ken Winke, Jim Wettrich, Jim Greenslade, and Henry Harrison for getting the ball rolling and keeping us all together. Also, thanks to all the spouses and significant others who have become honorary members of our class. We appreciate your love and support and think of you as part of our Class of '67 family.
The Reunion was so much fun and we look forward to our Class 75th Birthday Party celebration.
Hugs!
Sarah
Hi,
I hope this finds you all safe and well. Just a reminder that, if you have moved, have a new email address, or if you have other new information, please update your profile. We want to make sure that we have the most up-to-date info when sending you announcements or mail.
Thinking of you all and sending out good thoughts during this crazy times. Wish we could all get together, but some day! Here's to a better new year!
Much love and hugs,
Sarah
Your Class Reunion Committee Members:
Ken Winke
406 S. Church St.
Clyde, Ohio 43410
Ken Winke - kgwinke@gmail.com
Jim Wettrich
P.O. Box 147 Clyde, Ohio 43410
Jim Wettrich— jimwettrich@gmail.com
Jim Greenslade
2203 S. Main St.
Clyde, Ohio 43410
Jim Greenslade - grubby.greenslade@gmail.com
Henry Harrison
4729 CR 175
Clyde, Ohio 43410
Henry Harrison - harrison4309@gmail.com
The Class web site administrator is Sarah (Preble) Chambers — kdc.schambers@gmail.com

---
Below is a list of motels in the area if you need somewhere to stay for the weekend:
Red Roof Inn, 1363 W. McPherson Hwy, Clyde, Ohio 43410 (419) 547-6660
Comfort Inn & Suites, 840 Sean Dr., Fremont, Ohio 43420 (419) 355-9300
Hampton Inn & Suites, 540 E. CR 89, Fremont, Ohio 43420 (419) 332-7650
Days Inn by Wyndham, 3701 N. State Route 53, Fremont, Ohio 43420 (419) 798-6240
Bellevue Hotel & Suites, 1120 E. Main st., Bellevue, Ohio 44811 (419) 483-5740
Quality Inn & Confer. Center, 3422 Port Clinton Rd., Fremont, Oh (419) 332-0601
Class of 1967 - 55th Reunion
August 12th - 13", 2022

Dear Classmate,
You are cordially invited to attend our 55th Class Reunion on August 13, 2022. The event will be held at the Clyde VFW, 847 West Maple Street, Clyde Ohio. Happy Hour will begin at 6:00 P.M. with dinner at 7 P.M. There will be a cash bar, followed by dinner, served buffet style which will consist of: Chicken, Beef, Meatless Rigatoni, Hash Brown Casserole, Baked Potatoes, Green Beans, Corn, Tossed Salad with dressings, Rolls and Butter. Music will be provided by our own Gary Ashton. The cost of the reunion is S25.OO per person or $50.00 per couple which includes both Friday and Saturday nights.
We're also having a get together at the VFW Shelter House (at the back of the property) on Friday night, August 12, 2022. This event will Start at 6:30 P.M. and last till around 11:00 P.M. Bring your own beverages. hot dogs, hamburgers, brats, chips and pretzels will be provided. On the Other hand, if you like, bring your meat. Please bring a covered dish or favorite snack to share with everyone.
We would like everyone to bring old and new pictures from the last reunion, to see how we all have changed. Bring an album or send some pictures. A list of addresses and email addresses will be provided at the reunion for everyone that wants one Or I can email them to you.
We still need the addresses of the following Classmates: Tom Curtis, Joe Davis, David Jenkins, Terry Roberts, Steve Mann, Robert Wilke and Michael Good. If anyone knows the whereabouts of these Classmates, please email the address to Ken Winke at kwinke@gmail.com.
If you haven't been to a Class Reunion, it might be something to think about and you might want to come. The years are going by quickly. We have lost twenty-seven (27) classmates already, eight (8) since the last Class Reunion in 2017. They include Karen (Akers)McClenathan, Roger Bonnette, Roger Carter, Joe Davis,Patricia (Devries) Madaras, Richard "Dick" McCleary, Faye (Mooney) Nay and Cathy (Thomas) Runion.
If you cannot attend the reunion, please send a letter or some information about yourself, your family and what you are doing now to share with our Classmates. We'll post the letter on a table with other pictures etc. for everyone to view. We would like to hear from you!
We, the Class Reunion Committee, wish all of you a safe journey to Clyde.
Sincerely ,
Ken Winke, Jim Greenslade, Jim Wettrich and Henry Harrison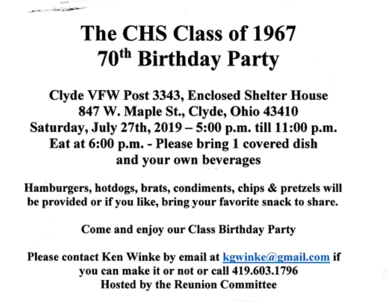 ---
What can you do with this website?
Using the menu links on the left side of the page:
Update your profile. Let classmates see who you are now, what you have been doing since, high school, any information you would like to share.
See your classmates' profiles.
Share photos
View pictures from yearbooks and photos classmates have shared.
See all the details of our upcoming 45th reunion.
See the In Memory page to view information about our classmates who have died.
Send messages to your classmates, either privately or on the User's Forum.
Post announcements that the whole class can see.
Contact us with messages, suggestions, comments about this website.
Link to the class facebook page.
Using the links at the right to see information about who is on the site, who has a birthday, what was happening in 1967, and a place to enter the email address of a missing classmate. (Missing is defined as no email address on file with us.)
This site is password protected and free for classmates to use. Please read the Privacy Statement at the bottom of this page.
Stay tuned for more!
Friends of the Class of 1967
If you're a former member of our class but did not graduate with us, or are a spouse/partner of a classmate, and would like to be added as a Guest Member Friend of the Class of '67, please select 'Contact Us' to send us your name, including maiden if applicable, along with your senior class year and/or your class connection and we'll add you to the list. Guest members are listed separately at the end of the Classmates page.
Visitors
If you are interested in creating a website for your class reunion, click on the following link
https://www.classcreator.com/index.cfm?M=M5074018
and use Promo Code M5074018