Clyde Senior

High School




Class Of 1967
ANNOUNCEMENTS
Hi everyone,
I hope this announcement finds you all well. Carol and I are doing fine.
I just have a little information on our 55th Class Reunion which is coming up this year. We have set up the date for Friday and Saturday night, August 12th and 13th at the Clyde VFW. More details will follow as soon as we start getting them finalized. I had to schedule the date already because the VFW was booked up for June and July.
I hope everyone can put these dates on your schedules and we look forward in seeing you. If you know of anyone that has changed their mailing addresses, please let me know what they are. I would also like updated emails and phone numbers for my class list information.
If you have any questions at all, please email me or call me at 419.603.1796.
Love you all, Ken
Welcome to the Clyde Senior High Class Of 1967 web site. Our Reunion Committe is already making plans for our 55th Class Reunion! Please plan on joining us to celebrate this great class and reconnect with old friends.
Reunion Committee:
Ken Winke, Jim Wettrich, Jim Greenslade, Henry Harrison
Hi,
I hope this finds you all safe and well. Just a reminder that, if you have moved, have a new email address, or if you have other new information, please update your profile. We want to make sure that we have the most up-to-date info when sending you announcements or mail.
Thinking of you all and sending out good thoughts during this crazy times. Wish we could all get together, but some day! Here's to a better new year!
Much love and hugs,
Sarah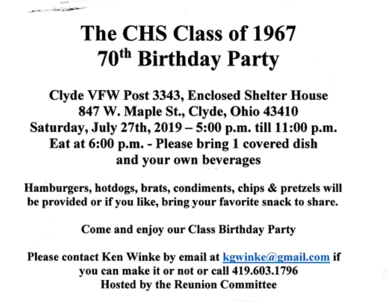 ---
Hi! I have added a new Photo Gallery named Class 65th Birthday Party and posted my pictures. I know many others have taken pictures and hope that they wil post their pictures to the gallery as well. (If you need any help, let me know.)
Thanks to everyone who helped organize the party, brought food and drink, and who showed up to share the fun. Special thanks to Ken Winke for getting the ball rolling and keeping us all together. Also, thanks to all the spouses and significant others who have become honorary members of our class. We appreciate your love and support and think of you as part of our Class of '67 family.
The party was so much fun and I hope we can all get together soon.
Hugs!
Sarah
What can you do with this website?
Using the menu links on the left side of the page:
Update your profile. Let classmates see who you are now, what you have been doing since, high school, any information you would like to share.
See your classmates' profiles.
Share photos
View pictures from yearbooks and photos classmates have shared.
See all the details of our upcoming 45th reunion.
See the In Memory page to view information about our classmates who have died.
Send messages to your classmates, either privately or on the User's Forum.
Post announcements that the whole class can see.
Contact us with messages, suggestions, comments about this website.
Link to the class facebook page.
Using the links at the right to see information about who is on the site, who has a birthday, what was happening in 1967, and a place to enter the email address of a missing classmate. (Missing is defined as no email address on file with us.)
This site is password protected and free for classmates to use. Please read the Privacy Statement at the bottom of this page.
Stay tuned for more!
Friends of the Class of 1967
If you're a former member of our class but did not graduate with us, or are a spouse/partner of a classmate, and would like to be added as a Guest Member Friend of the Class of '67, please select 'Contact Us' to send us your name, including maiden if applicable, along with your senior class year and/or your class connection and we'll add you to the list. Guest members are listed separately at the end of the Classmates page.
Visitors
If you are interested in creating a website for your class reunion, click on the following link
https://www.classcreator.com/index.cfm?M=M5074018
and use Promo Code M5074018